Brow Boutique: Empowering Beauty Through Expertise and Innovation
In the world of beauty and empowerment, Brow Boutique stands as a shining example of dedication, innovation, and expertise. Founded by the visionary Katrina Morozova, this establishment has grown from its humble beginnings in eyelash extensions to a conglomerate of success, including three thriving studios, Lash Boutique, and the renowned BB Glow Academy. Let's delve into Katrina's journey and the ethos that has propelled Brow Boutique's success.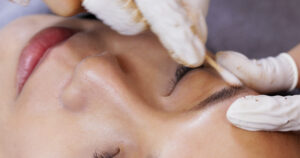 A Pioneer in Beauty
Katrina Morozova's journey began over 15 years ago when she stepped into the realm of eyelash extensions. Little did she know that this step would mark the inception of a transformative venture. As a pioneer in the beauty industry, Katrina has consistently been at the forefront of offering the latest techniques and procedures to her clients. Her commitment to staying ahead of trends has not only elevated her business but has also set new standards in the industry.
A Global Network of Professionals
Katrina's pursuit of excellence doesn't stop at her studio's doors. She collaborates with professionals around the world to anticipate upcoming trends and breakthroughs. This global network ensures that Brow Boutique remains a hub of innovation, offering clients the most advanced and cutting-edge beauty solutions. By fostering collaborations and sharing knowledge, Katrina has established Brow Boutique as a global leader in the beauty domain.
Education as a Cornerstone
At the heart of Brow Boutique's success is Katrina's unwavering belief in the power of education. Recognizing that knowledge is the key to transformation, she ensures that her staff receives continuous education and training. This dedication to skill enhancement not only empowers her team but also guarantees that clients receive the highest quality services. Katrina's commitment to education echoes her passion for raising industry standards.
From Technician to Trusted Expert
Katrina Morozova is more than a business owner; she is a trusted expert in the beauty industry. Her journey from technician to well-respected authority showcases her dedication to honing her craft. This hands-on approach to client care and employee training has been the cornerstone of Brow Boutique's success. Clients can feel the difference from the moment they enter the studio until they leave, basking in the expertise and care that define Brow Boutique.
The Brow Boutique Difference
What sets Brow Boutique apart is not just the exceptional beauty treatments it offers, but the essence of empowerment that permeates every aspect. Katrina's commitment to excellence, innovation, and education has shaped Brow Boutique into more than a beauty studio; it's a sanctuary of transformation. The values she instills in her team and the experiences she creates for her clients make the Brow Boutique difference tangible and inspiring.
A Legacy of Empowerment
Katrina Morozova's journey from a novice in eyelash extensions to a global authority in beauty is a testament to the power of vision and perseverance. Her legacy extends beyond the beauty treatments; it's about empowerment and transformation. Through Brow Boutique, Katrina has empowered countless individuals to embrace their beauty and confidence. Her legacy continues to evolve as she leads the industry with grace, innovation, and the unwavering belief that beauty is a catalyst for empowerment.
Conclusion
In the heart of the beauty industry, Brow Boutique shines as a beacon of innovation and empowerment. Katrina Morozova's journey from the inception of eyelash extensions to the establishment of a global brand is a story of dedication, expertise, and a commitment to excellence. Brow Boutique's impact extends far beyond its studios; it's a legacy of empowerment that Katrina continues to build every day. As Brow Boutique stands at the forefront of beauty innovation, it reminds us that true beauty is not only about aesthetics but about the empowerment it brings.