At Brow Boutique, we are continuously striving to enhance our services and provide our clients with exceptional results. With that commitment in mind, we are thrilled to share some exciting changes we have made to our eyebrow procedures.
Exclusively Offering Permanent Makeup for Brows
After careful consideration, we have made the decision to discontinue offering microblading as part of our services. The beauty industry has seen remarkable advancements, and we believe that newer techniques deliver more natural-looking results. Our focus is on ensuring that our clients achieve the most authentic and stunning brows possible. Rest assured, this change does not undermine the choices made by clients who have previously undergone microblading. On the contrary, we have refined our techniques to ensure even more natural-looking results moving forward.
Streamlined Approach: Permanent Makeup for Brows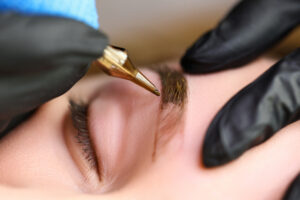 We understand that selecting the right eyebrow procedure can be an overwhelming task. To simplify the process and eliminate any confusion, we now exclusively offer permanent makeup for brows. By concentrating on this single treatment, we can provide our clients with a personalized approach that takes their unique features into account. During the appointment, our experienced technicians work closely with our clients to determine the most suitable technique that complements their natural beauty and helps them achieve their desired results.
Intensive Training for Our Team
At Brow Boutique, we firmly believe in continuous growth and the pursuit of excellence. To ensure that we consistently provide the highest quality service, we have recently invested in intensive training for our team. We are proud to welcome a highly professional and knowledgeable brow expert who has assumed the role of Brow Manager. With her expertise, we are elevating our standards and incorporating new techniques that enhance the quality of our services. This comprehensive training ensures that our team is well-equipped to provide our clients with the ultimate brow transformation.
These exciting developments reflect our unwavering commitment to delivering exceptional results. At Brow Boutique, we refuse to settle for anything less than excellence. We continuously invest in training and stay at the forefront of industry trends and techniques to provide our clients with the best possible experience.
If you would like to learn more about the eyebrow procedures offered at Brow Boutique, please click here, or if you want to book your permanent make-up for brows appointment, click here. We are excited to welcome you and assist you in achieving the perfect brows that enhance your natural beauty.