Who else remembers the thin brows that were wildly popular in the early 2000s? Spending hours in front of the mirror getting razor line brows was all the rage, but today's brow trend couldn't be more different. Today's trend are all about full, dark brows – think Cara Delevigne. But if you've spend your teens and early twenties plucking, waxing, and tweezing away every last brow hair, you may be wondering how you can get those big, bold brows? Enter microblading.
Microblading is a semi-permanent technique that uses a hand tool with needles to create hair-like strokes on your skin. The effect is similar to getting your eyebrows tattooed but without the commitment of moving your body art from place to place or worrying about it fading over time. And unlike microblading, which has been around since the 1930s but has only recently become popular among celebrities because of its ability to mimic natural hair growth patterns, tattooing is an oldie but goodie that dates back thousands of years!
What is Microblading?
Microblading is a form of semi-permanent cosmetic tattooing. An artist uses a manual tattoo device to create tiny hair-like strokes on the brow. The pigment used is deposited into the epidermal layer of the skin, so it slowly fades over time. The results will last for up to 2 years and can be extended with regular touch-ups every 1-2 years.
It's perfect for people with little to no eyebrows as it will create an illusion of a more defined and fuller eyebrow. If you have sparse or thin eyebrows, microblading may be a good option for you.
10 Things to Look for When Selecting a Brow Artist
So now that you've decided to try microblading, it's time to find a brow artist. If this is your cosmetic procedure, you're probably nervous because the results can last up to 2 years and choosing the wrong brow artist could be a disaster. Don't worry, we can help. We recommend running through this list before booking any microblading session. 
Certification

– Make sure they are trained and licensed to perform microblading. You can even look up the institution where they were trained to ensure it's a well-respected microblading program. 

A clean treatment room –

The salon and treatment room should be clean and well-organized. A dirty room can indicate your brow artist is not following proper safety and cleaning protocols. 

A consultation –

Every brow artist should offer a consultation prior to the treatment. Never let a brow artist apply any pigment without doing a thorough consultation. 

Understand your history –

As part of the consultation, the brow artist should ask you questions about your medical history in order to prevent any adverse reactions.

Clean equipment –

Any brow artist should use single-use blades and equipment. You'll know they are single-use if they come in a pre-sterilized and sealed package. 

Before and after Photos –

Ask to see a collection of healed before and after photos. A good brow artist should have a strong and impressive portfolio of work either on their website, Instagram, or other social media accounts.

Good reviews –

Make sure you check out all reviews of their salon. You might even be able to ask for references. A good brow artist most likely has multiple loyal clients that would love to express their satisfaction for their work. 

Hard to book –

You may be surprised to know that if you have a hard time getting an appointment that's probably a really brow artist. Talented brow artists may book out weeks in advance. So it may take a while to get in, but it's well worth the wait. 

The right style –

Every brow artist naturally has their own style, so when checking out their previous work, make sure their style matches your desired look. 

Open to questions –

Probably the biggest red flag of a bad brow artist is when they avoid answering questions. You need to work with someone who will answer your questions and be as thorough as possible. You're getting pigment tattooed onto your skin – so it's crucial that you feel welcome and comfortable with your brow artist.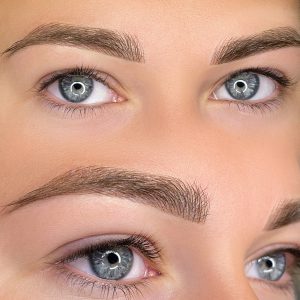 Ultimately, if you feel like there are any red flags, you should trust your instincts. The best advice we can give is to make sure you trust your brow artist and feel like you're in good hands. That's the only way you'll know you've found the best brow artist for you.
If you're looking for the best brow artist in the Cape Cod area, then book an appointment with us today. Our brow artists are expertly trained in microblading and brow design in order to provide the best results possible. 
Brows are as unique as your fingerprint. Brow Boutique specializes in semi-permanent makeup, offering a full range of techniques for a natural-looking, long-lasting effect.