Lash Line Enhancement: The Secret to Mesmerizing Eyes
When it comes to enhancing your overall appearance, few things have the power to make a significant impact like enhancing your eyes. At Brow Boutique, we're excited to introduce you to the secret behind mesmerizing eyes: lash line enhancement. This innovative technique is all about defining and enhancing your lash line, giving your eyes a captivating look that brings out their natural beauty.
The Magic of Lash Line Enhancement
Lash line enhancement is more than just a cosmetic procedure; it's a way to enhance your natural features without the need for traditional makeup. This semi-permanent makeup technique involves the careful application of pigment along the upper or lower lash line, creating the illusion of fuller, darker lashes. The result is a subtle yet transformative enhancement that can make your eyes truly stand out.
The Benefits of Lash Line Enhancement
Subtle Definition
One of the key advantages of lash line enhancement is its ability to add subtle definition to your eyes. Unlike traditional eyeliner, which can sometimes appear harsh or overdone, lash line enhancement creates a softer, more natural look. It's an excellent choice for those who want to enhance their eyes without the heavy-handedness of traditional makeup.
Brighter Eyes
Enhanced lash lines give the appearance of thicker, darker lashes. This, in turn, makes your eyes look more awake and vibrant. Whether you're heading to the office or a special event, you'll find that your eyes have a new level of allure that draws people in.
No Smudging
We've all experienced the frustration of eyeliner smudging or wearing off throughout the day. Lash line enhancement eliminates this problem entirely. The pigments used in this procedure are designed to stay in place, ensuring that your eye makeup remains flawless from morning until night.
Time-Saving
Say goodbye to the daily routine of applying eyeliner. Lash line enhancement simplifies your makeup routine by giving you a long-lasting, naturally defined lash line. You'll not only save time but also have the confidence that your eyes always look their best.
The Procedure
During a lash line enhancement procedure at Brow Boutique, you'll be in the skilled hands of our experienced technicians. They will carefully deposit pigment between your lashes using a specialized technique. This process is precise and tailored to your unique eye shape and desired outcome, ensuring that the results are nothing short of stunning.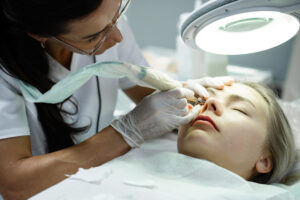 Maintenance Made Easy
Lash line enhancement is not only beautiful but also low-maintenance. While the initial procedure provides long-lasting results, you may need periodic touch-ups to keep the color looking fresh and vibrant. These touch-ups are quick and easy, ensuring that your mesmerizing eyes stay captivating year-round.
Discover the Magic at Brow Boutique
If you're ready to enhance your eyes and unlock the magic of lash line enhancement, Brow Boutique is your ultimate destination. Our experienced specialists are passionate about helping you achieve the perfect look that enhances your natural beauty. When you choose Brow Boutique, you're choosing a team dedicated to making your eyes look utterly mesmerizing. Experience the secret to captivating eyes – book your appointment at Brow Boutique today!
Don't wait; your captivating eyes are just an appointment away!