Lip blushing, also called Permanent Make-Up for Lips (PMU lips) is a semi-permanent lip tattoo that will enhance the shape and color of your lips for up to five years. It's become a popular option for people who want to achieve fuller lips without using fillers. But it can be scary for someone considering lip blushing for the first time. 
To help ease your fears, we've collect the 5 more commonly asked questions and complied our answers. 
1- What are the Benefits of Lip Blushing?
There are multiple benefits to lip blushing, but here are some of our favorites: 
You'll get the lips of your dreams –

You'll get perfectly shaped and tinted lips. Your lips will look more symmetrical, more defined, fuller, and beautifully tinted. 
Enjoy smudge-proof color –

The pigment is tattooed into the skin, which means no more smudged lipstick for several years! It doesn't get better than that. 
You'll save time & money on lip products –

No more pricey lipsticks and lip liners that have to be re-applied all day long. 
2- How Does Lip Blushing Compare to Fillers?
It's important to understand that the only similarity between Lip Blushing and Fillers is that they are intended to create volume – but the results are wildly different. Fillers are done by injecting Hyaluronic Acid into the skin to actually plump and firm the lips. Lip Blushing uses tint to color and shape the lip – which creates the illusion of fullness. Lip Blushing will last significantly longer than fillers and includes the change in color to your lips.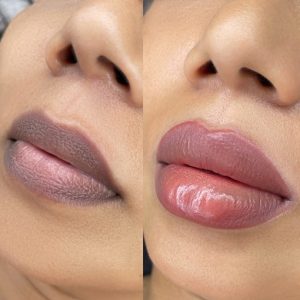 3- How Long Does it Last?
Results will vary from person to person, but for most people the results will last up to 2 years. The results from lip blushing can be extended with regular maintenance. But most people don't want their color to last more than 2 years. Why? Trends and tastes change! The semi-permanent results allow you to change the color to match your preference or changes in beauty trends. 
4- Is Lip Blushing Safe?
We get asked this all the time, and trust us, we wouldn't perform any procedure that was dangerous! But just like any permanent or semi-permanent tattoo there are some risks. The biggest risk comes from a potential allergic reaction or the creation of scar tissue. This is why it's crucial that you work with a certified technician with a lot of experience. Don't be afraid to ask your technician about their credentials! If you see a red flag – run! It's important that you feel safe and taken care of at all time.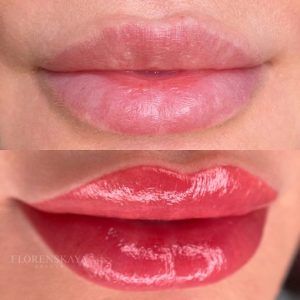 5- Does Lip Blushing Hurt?
We do everything we can to prevent any pain! In fact, most clients say the pain in minimal. To reduce the risk of pain, we apply a topical anesthetic to numb the area. Our techniaicns will also check in with you throughout the procedure to ensure you're comfortable. If you feel any discomfort, be sure to let your technician know. We may need to apply more anesthetic! 
If you're thinking about lip blushing, all you need to know is that the technicians are Brow Boutique are here to guide you through every step. You'll begin your appointment with a consultation where we will explain each step and answer all of your questions. You're in good hands with Brow Boutique.

Ready to try lip blushing? Book an appointment today!