Choosing the Right Microblading Aftercare Products
The artist's skill and training are important in getting the best results from microblading, but we often overlook the importance of choosing the right aftercare products.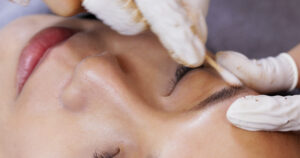 Why Proper Aftercare is Vital
Appropriate post-procedure care is essential for ensuring that the results of microblading are maintained and that the healing process is as fast and comfortable as possible. Without proper aftercare, the color of your eyebrows can fade quickly. The skin can become irritated, and the risk of infection increases.
What to Consider
Your aftercare routine in the first 14 days can make or break your microblading results. Make sure to follow your technician's advice on how to take care of your brand-new eyebrows. You may need to alter your skincare regimen during recovery. When choosing products to use, consider the following:
Choose products that are safe for sensitive skin
In a nutshell, you need products with gentle, hydrating ingredients to help restore your skin barrier. Products that are safe for post-tattoo care are also great for microbladed brows. Skin care products with aloe vera, Vitamin E, and hyaluronic acid help soothe your delicate skin after microblading.
Avoid these ingredients
We suggest using products without potentially irritating ingredients such as dyes, preservatives, astringents, exfoliants, and alcohol. Below are other beauty ingredients to avoid.
Fragrances can irritate the sensitive area of your microbladed brows. It's best to opt for scented-free cleansers and moisturizers.
Mineral oil can block pores and cause an infection that will only delay the healing process of your brows.
Retinoids can work wonders for acne and rough skin, but they cause dead skin cells to shed faster than normal. Excessive peeling causes the ink to fade quickly too.
Alpha Hydroxy Acids (AHAs) like glycolic or lactic acid can lighten the skin and may affect the color and vibrance of the pigment used in microblading.
Hydroquinone is another skin-lightening agent that can irritate and discolor the skin. Because they tend to lighten the skin, you may end up with uneven or patchy eyebrows.

Choose the right formulation based on your skin type
Cleansers are used to clean the skin after microblading. They remove any debris or bacteria that may have accumulated on the brows. Gentle soaps and washes like Cetaphil are recommended for microbladed eyebrows.
Moisturizers are used to hydrate, soften, and nourish the skin. They can be in the form of ointments, balms, gels, creams, or lotions. If you have dry skin, you may want something creamy or emollient. 
Ointments

like Aquaphor are commonly used after microblading because they soothe itchy skin, reduce inflammation, and promote healing. Vitamin A and D ointment is also a popular post-tattoo skincare product.

Balms

are luxuriously thicker in consistency and provide a protective barrier against external elements. Ditch balm moisturizers if you have acne-prone skin because they tend to sit on top of the skin. 

Gels

are water-based and are designed to provide a cooling effect to the skin. Because they absorb quickly, they are best for oily or acne-prone skin.
Sunscreen is important as sun exposure can fade the pigment quickly. But don't apply sunscreen in the first week because your eyebrows are still healing, and It's better to let your skin breathe.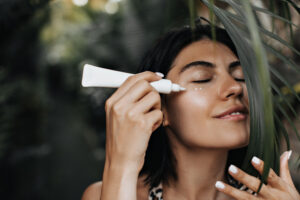 Brow Boutique is the premier destination for all your brow needs! Our team of expert technicians is proud to offer you the latest in brow artistry. Book an appointment for an initial consultation and more tips about microblading.