Microblading is an increasingly popular cosmetic procedure that involves tattooing fine lines on the brow. It was originally developed for women, but now many men are choosing to get it done too.
The demand for microblading is growing and it's not just for women anymore. There are many benefits of getting the procedure done. Let's dive into why everyone should try microblading – including men. 
What is Microblading?
Microblading is a semi-permanent brow tattoo that enhances the appearance of eyebrows. A certified brow artist will use a microneedling machine to embed pigment into the skin while drawing hair-like strokes – mimicking the apperance of hair. This treatment is popular amongst people with thin or sparse brows looking for a fuller brow.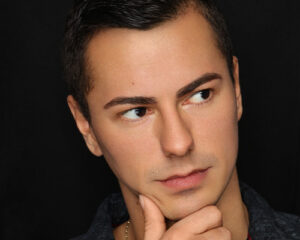 Do Men Get Microblading?
Absolutely! Microblading, a semi-permanent form of brow tattoo, is a gender-neutral procedure. The goal of microblading is to enhance your brows and overall appearance. So everyone has something to gain. 
Does Microblading on Men Look Natural? 
100%. Your brow artist works with you to create a brow design that looks completely natural. The final appearance can be bolder or softer depending on your desired look. 
Why Do Men Get Microblading?
There are a ton of reasons why men get microblading. Of course the most common reason is to enhance their appearance, but microblading can be great for thinning hair, hiding scars, and helping you look your best 24/7. 
Is the microblading process for men different compared to women?
Every microblading appointment is custom tailored to you – no matter what gender you are. Your artist will not only take your personal preference into consideration, but they will actually measure your face to find the best, most flattering brow shape and style. The process of adding pigment to the skin will be the same for everyone. 
How long does microblading for men last?
Results are expected to last anywhere between 1 and 2 years. If you like the look of your brows, it's recommended to get a touch-up after about a year. If you don't want to continue maintaining your microbladed brows, you can simply let the pigment naturally fade away. 
How can I find a microblading artist for men?
Just like any beauty treatment, you want to find someone who is experienced and can create the result you're looking for. When meeting with possible brow artists we recommend doing the following: 
Ask for before and after photos

: Make sure the artist is capable to creating the look you want. Some artists may lean towards bolder or softer looks. 

Read their reviews and/or ask for referrals:

Make sure you read their reviews. If you see any red flags, don't move forward with that artist unless you feel 100% comfortable with them. 

Avoid cheap treatments:

If you come across a salon with prices that are significantly cheaper than the average price in your area, it may be a good idea to run. Some salons may run promotions or sales, but if their daily price is very cheap it may not be worth it. Microblading is an investment, and getting poor results could result in costly removal.
In the end, it's all about making an informed decision about whether microblading is right for you. Men should absolutely consider microblading, but before making an appointment, it's important to do research, ask questions, and carefully consider if microblading is right for you. If you want to try microblading, book your consultation today. 
—
Brow Boutique Cape Cod