Transform Thin Eyebrows with Microblading and Ombré Brows
Although 90s skinny brows slowly crept back in late last year, brow experts believe it's just another fleeting trend. Full, bushy eyebrows still reign supreme. But what if you have naturally thin or overplucked brows? 
At Brow Boutique Cape Cod, we combine two life-changing techniques in eyebrow tattooing. Microblading and Ombré brows are the perfect solutions to thinning, patchy, and overplucked eyebrows. 
What is Microblading?
Microblading is a semi-permanent eyebrow tattooing technique that uses tiny blade-like needles to deposit pigment into the skin, creating the illusion of natural-looking hair. 
The procedure mimics the look of real hair and fills in sparse areas, giving you full, defined brows that last for 1-2 years. The result is subtle and natural-looking eyebrows that enhance your facial features.
The difference between microblading and conventional tattooing is that the microblade injects color closer to the skin's surface, resulting in fine and crisp hair strokes. This technique minimizes the risk of pigment spilling under the skin, leaving a truly flawless finish.
What are Ombré Brows?
Ombré or powdered brows is a semi-permanent shading technique that gives a natural gradient look to your eyebrows. The brows start with a lighter color, then gradually darken from the arch to the ends. It uses a small makeup machine to place ultra-fine dots of color into the skin, creating a soft, "filled-in" effect similar to the results achieved by brow pencils.
While microblading doesn't work well in people with oily skin, Ombré brows work for all skin types. 
What are The Benefits of Microblading and Ombré Brows?
Microblading and ombre brows make the perfect pair. Combining these techniques gives you the best of both worlds. 
Microblading provides definition with precise strokes that follow your brows' natural growth pattern, while Ombré brows deliver perfect shading and blending. The procedure heals beautifully and gives a softer but more defined look.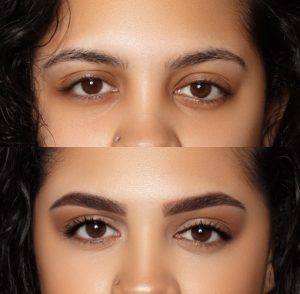 Looks more natural:

Microblading creates strokes that look like individual hair, while ombre shading provides a soft powdered effect, resulting in a flawless and understated look.

Long-lasting results:

Both techniques are semi-permanent, lasting 1-3 years, reducing the need for touch-ups.

Low maintenance:

No need to draw your brows daily and spend tons on eyebrow makeup.

Customizable:

Whether you want more defined brows or a softer, more understated look, you can create any look with these two techniques.  

Perfect for all skin types:

it works for dry, oily, or combination skin.

Versatile:

With the ability to blend and customize the look, microblading and Ombre shading can work for all brow shapes, thicknesses, and lengths.
I want an eyebrow makeover
If you live in the Cape Cod and Boston area and if you are tired of spending hours every morning filling in your brows or dealing with sparse, patchy eyebrows, we have the solution for you! Our team of expert technicians will take care of your brow makeover. Call Brow Boutique Cape Cod today! We can't wait to hear from you.