Ombre Brows Healing Process Overview
Semi-permanent makeups like Ombre brows are popular for a reason. They give perfectly filled brows, and they are completely reversible. Unlike permanent tattooing, botched eyebrows won't stay forever. You can also change the color and shape of your brows once the color fades.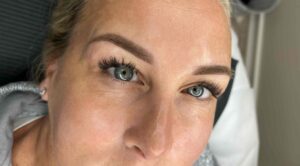 But what does the healing process look like? Let's take a look. 
Day-by-Day Process
It takes about 2-4 weeks for powdered and combination methods to heal. Some people may form scabs; some don't. Your experience may differ from others, but here's the usual healing progression in most cases.
Day 1 
Immediately after, your eyebrows may look darker than you expected. Don't worry; it takes time for the pigment to settle into your skin. Your brows will be quite red, sensitive, and swollen. As tempting as it might be, do not touch or clean them. If you must wash your face, avoid the eye area for the first 48 hours.
Day 2
Your eyebrows may appear slightly lighter but darker than your natural brow color. Avoid activities that can cause excessive sweating. 
Day 3
There may be some flaking or itching as the skin starts to heal. Please try not to scratch or rub your brows. Gently clean the area using mild soap or cleanser. 
Day 5-7
Your brows will begin to lighten. Any redness or swelling should have subsided, and the area should no longer feel tender or sensitive. Scabbing usually starts at the front and tail parts. Don't pick on your scabs, or you'll ruin your new eyebrows. Just wait for the scabs to fall off.
Day 10 
The skin around the eyebrows should be fully healed. The scabbing stage is over. Congrats! You should be able to resume your normal skincare and makeup routine. Don't panic if your brows look patchy or faded; the color will return.
Day 14-28
Even though your eyebrows are yet to take their final shape, they now look more natural, fuller, and well-defined. The difficult part is over, and you feel more confident with your look. Avoid excessive sweating and wear sunscreen to protect the color of your brows.
Ongoing Care and Touch-up
Your powder brows are fully healed after a month. Even after the healing period, you'll need to take special care of your brows. Make sure to clean them regularly and apply a moisturizing cream or ointment to keep them healthy and looking their best. 
We recommend a touch-up 4-6 weeks after the procedure to make necessary changes and correct imperfections.
The journey toward flawless Ombre brows can be a challenging one. However, with the right preparation and understanding of the process, you can make the experience smoother and stress-free. In some cases, the healing process may even be quick and effortless. To ensure the beauty and longevity of your powder brows, it is essential to follow the aftercare instructions provided by your technician.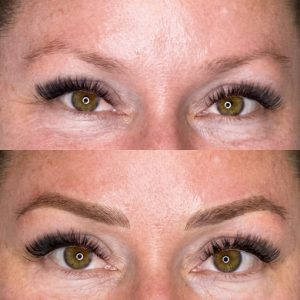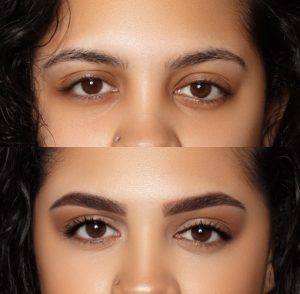 How do I get Ombre brows?
Getting professional quality Ombre brows requires skill and precision. Our brow experts at Brow Boutique are highly trained and experienced in this technique. Our signature offering is a combination of microblading and Ombre shading that offers superior results that will last for years.