Enhancing Your Beauty with Lip Permanent Makeup at Brow Boutique
Brow Boutique, situated on Cape Cod area, is thrilled to introduce Permanent Lip Makeup (PMU Lips) as one of its innovative services. This groundbreaking procedure, often referred to as Lip Blushing, aims to enhance the natural beauty of your lips, correct asymmetry, and add definition and fullness. At Brow Boutique, we champion the art of subtle enhancement, creating a delicate, powdery effect that exudes natural beauty. Bid farewell to harsh lines and extend a warm welcome to soft, natural-looking lips that will gradually fade over two years, leaving you with long-lasting, effortlessly beautiful lips.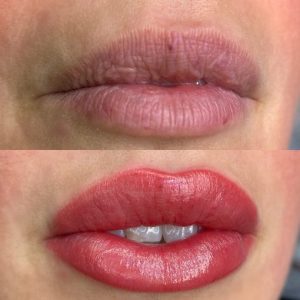 The Beauty of Lips Permanent Makeup
Lips Permanent Makeup serves as the ultimate pick-me-up for every woman, particularly during those hectic days. This look complements everyone, irrespective of whether you have a full pout or thinner lips. It provides women with an effortless beauty routine that takes just a few minutes each day to maintain.
What truly distinguishes Permanent Lip Makeup at Brow Boutique is our unwavering commitment to achieving natural-looking results. We utilize gentle machines and advanced pigments to ensure your lips appear as though nature herself bestowed them upon you.
The Procedure
Consultation and Color Selection
The journey to luscious lips commences with a personalized consultation at Brow Boutique. During this discussion, we will delve into your desired lip appearance, select the perfect color, and determine the ideal lip shape to harmonize with your features.
Numbing for Comfort
Your comfort takes precedence. Before embarking on the procedure, we apply a topical anesthetic to numb the area, guaranteeing a pain-free and relaxing experience.
Crafting Natural Beauty
Our skilled technician employs a specialized PMU machine to artfully apply the tint to your lips. Through a meticulous process of creating thousands of tiny dots, we gradually deposit the pigment to construct the perfect color, achieving the natural look you desire.
Touch-Up for Perfection
As with all PMU procedures, a touch-up session becomes necessary to enhance your results and ensure the longevity of your treatment. This step helps sustain the vibrancy of your lips.
Procedure Duration
Your appointment for Permanent Makeup for Lips at Brow Boutique typically spans approximately 2 hours and 30 minutes. We aim to ensure that every detail is perfected for you.
Important Considerations
While Lips Permanent Makeup proves to be a fantastic option for many, it's imperative to note that it may not be suitable for everyone. This treatment is NOT RECOMMENDED for individuals who:
Are pregnant or nursing
Are undergoing chemotherapy
Have a blood disorder or auto-immune disease
Take blood-thinning medication, Accutane, or steroids
Have psoriasis, eczema, or other skin conditions in the area
Have a history of keloid scarring or hypertrophic scarring
Pricing
PERMANENT LIP COLOR 1st PROCEDURE: This initial procedure enhances the beauty of your natural lips, corrects asymmetry, and adds definition and fullness. Schedule your appointment at Brow Boutique today for flawless-looking lips at $550.
PERMANENT LIP COLOR TOUCH UP: The second appointment for this procedure is crucial and required. It ensures your pigment and lip shape endure until your 1-2 year touch-up. During this session, your technician will fine-tune your shape, customize the color, and repeat the process, taking roughly two and a half hours at $400.
At Brow Boutique, we are fervently dedicated to helping you attain your beauty goals. Our Permanent Makeup for Lips is an art form that empowers you to look and feel your best. Book your appointment today to experience the natural elegance of PMU Lips at Brow Boutique.