Unlocking the Beauty of Your Eyes: Lash Line Enhancement at Brow Boutique Cape Cod
In the world of beauty and cosmetics, a revolutionary technique is taking the industry by storm – lash line enhancement. Brow Boutique Cape Cod is excited to introduce you to this remarkable procedure that promises to enhance your natural beauty and simplify your daily routine. In this article, we'll delve into the details of lash line enhancement, how it works, its benefits, and what you can expect during the procedure.
What is Lash Line Enhancement?
Lash line enhancement is a cutting-edge permanent makeup technique designed to brighten and open up your eyes, all while maintaining a natural appearance. Unlike traditional makeup, this procedure involves tattooing an ultra-thin black line along the top lash line, creating the illusion of fuller, darker, and thicker lashes. This subtle enhancement can also extend to the bottom lash line, depending on your preference. The result? A youthful, eye-opening effect that lasts for years without the need for regular eyeliner.
The Magic Behind Lash Line Enhancement
One of the key factors that set lash line enhancement apart is the technology used. Unlike traditional manual tools used in conventional makeup application, this procedure employs a state-of-the-art computerized device for precise pigment application. This innovation allows for accurate and soft pigment deposition, resulting in a remarkably natural look that was previously unattainable.
Benefits of Lash Line Enhancement
Lash line enhancement offers numerous advantages, making it a compelling choice for those seeking effortless beauty:
– Effortless Beauty
Wake up every day with beautifully defined eyes, eliminating the need for daily eyeliner application.
– 24/7 Perfection
Enjoy the freedom of keeping your enhanced lash line intact even while sleeping, swimming, or hitting the gym. No more smudges or makeup removal hassles.
The Lash Line Enhancement Process
Now that you're intrigued by the idea of lash line enhancement, let's walk through the process step by step:
Step 1: Numbing Cream Application
Before the procedure begins, a numbing cream is applied to the treatment area to minimize discomfort. Most clients describe the sensation as a gentle tickling along the lash line.
Step 2: Precision Treatment
Once the numbing cream has taken effect, our expert Lash Enhancement artist will work meticulously to create the perfect line along your lash area. The focus here is on achieving a precise, natural look that enhances your unique eye shape and color.
Procedure Duration
The initial lash line enhancement appointment typically lasts about 2 hours, ensuring that every detail is attended to and your expectations are met.
Is Lash Line Enhancement Right for You?
While lash line enhancement is a fantastic option for many, it may not be suitable for everyone. We recommend considering other options if you fall into the following categories:
Poor lash health or damaged lashes
Lack of natural lashes
Recent or planned eye surgery
Alopecia or hair loss from chemotherapy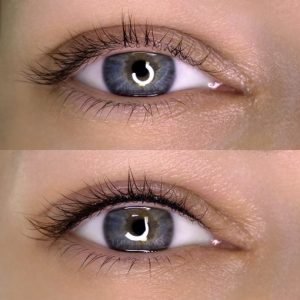 Pricing
At Brow Boutique Cape Cod, we offer competitive pricing for our lash line enhancement services:
Lash Line Enhancement 1st Procedure: $500
Lash Line Enhancement Touch Up: $250
It's important to note that the pigments used in lash line enhancement are implanted on the first layer of skin, mimicking the natural eye shape. These pigments can last for several years and may require touch-ups to maintain the desired look.
Lash line enhancement is a remarkable beauty solution that allows you to enhance your eyes in a natural and long-lasting way. With Brow Boutique Cape Cod's experienced and board-certified permanent makeup artists, you can trust that your experience will be nothing short of exceptional. Say goodbye to the hassle of daily eyeliner and hello to effortlessly beautiful eyes that last for years. If you're ready to open up your eyes to a new world of beauty, schedule your lash line enhancement appointment today. Your eyes will thank you for it!