Keeping up with beauty trends can be a daunting task, but at Brow Boutique Cape Cod, we make it easy for you. In this article, we'll dive deeper into microblading and permanent makeup and help you decide which one is right for you.
Microblading: A Closer Look
Microblading is a semi-permanent eyebrow tattooing technique that creates natural-looking hair strokes using a handheld tool. This technique involves depositing pigment into the skin to fill in the sparse areas and create a fuller brow. Microblading is ideal for those who want to achieve a natural-looking eyebrow without the daily hassle of makeup application.
At Brow Boutique Cape Cod, our experienced technicians use the latest techniques and products to create a customized look that enhances your natural beauty. Our microblading services take approximately two hours and last up to two years with touch-ups required every six to twelve months. We use numbing cream to minimize any discomfort during the procedure, and we follow proper sterilization and hygiene protocols to ensure your safety.
Permanent Makeup: What You Need to Know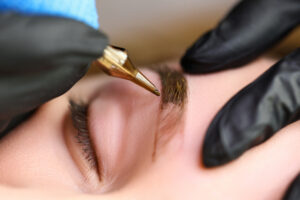 Permanent makeup, also known as cosmetic tattooing, is a technique that uses a tattoo machine to deposit pigment into the skin, creating the appearance of makeup. This technique can be used for eyeliner, lip liner, and even blush, in addition to eyebrows.
At Brow Boutique, we offer top-notch permanent makeup services that can enhance your natural features and complement your personal style. Our experienced and certified technicians use high-quality pigments that can last up to five years, depending on the area treated. The procedure takes approximately two to three hours and may require touch-ups every two to three years.
Permanent Makeup vs. Microblading: What's the Difference?
While both microblading and permanent makeup involve depositing pigment into the skin, there are some significant differences between the two techniques.
Technique: Microblading uses a handheld tool to create small, hair-like strokes, while permanent makeup uses a tattoo machine to create a more solid and defined line.
Results: Microblading results in a more natural-looking brow, while permanent makeup provides a more defined and precise appearance.
Longevity: Microblading typically lasts up to two years, while permanent makeup can last up to five years.
Touch-Ups: Microblading requires touch-ups every six to twelve months, while permanent makeup may require touch-ups every two to three years.
Choosing the Right Technique for You on Cape Cod
Choosing the right technique ultimately depends on your personal preferences and lifestyle. If you're looking for a low-maintenance, natural-looking solution, microblading may be the way to go. However, if you want a more defined and long-lasting look, permanent makeup may be the better option. It's crucial to do your research and choose a reputable technician who is experienced in both techniques.
At Brow Boutique Cape Cod, we prioritize our clients' needs and preferences. Before any eyebrow enhancement procedure, our experienced technicians conduct a thorough consultation to ensure that we understand our clients' goals and expectations. During the consultation, we evaluate what the client is hoping to achieve, assess their current brow shape and condition, and discuss any concerns they may have. We take the time to listen to our clients and understand their unique features and personal style.
Experience the Brow Boutique Difference on Cape Cod
Enhance your natural features and boost your confidence with Brow Boutique Cape Cod. Our personalized approach to beauty and commitment to excellence sets us apart from the rest. We're passionate about helping our clients look and feel their best, and we believe that everyone deserves to feel confident and beautiful in their own skin.