Eyebrows have been a crucial part of the beauty world for decades. From natural, bushy brows to the perfectly arched and defined ones, eyebrow trends have come and gone. One of the latest trends in eyebrow enhancements is Ombré Brows. This technique has been gaining popularity in recent years and has been embraced by many beauty enthusiasts. In this article, we'll cover everything you need to know about Ombré Brows and why you should get them done at Brow Boutique Cape Cod.
Why Choose Brow Boutique on Cape Cod?
Brow Boutique Cape Cod has years of experience and expertise in eyebrow enhancements, including Ombré Brows. Our technicians are trained and certified in the latest techniques and use only high-quality products to ensure the best results.
Also, here at Brow Boutique Cape Cod we offer personalized consultations to ensure that you get the best results possible. We take the time to assess your natural brow shape and discuss your desired look, ensuring that you're happy with the end result.
Ombré Brows are a great option for anyone looking to enhance the appearance of their brows. They're natural-looking, low maintenance, and customizable to suit your individual needs and preferences. If you're considering Ombré Brows, come to Brow Boutique Cape Cod to get the best experience, expertise, and personalized approach to eyebrow enhancements.
What Are Ombré Brows?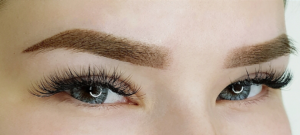 Ombré Brows is a semi-permanent eyebrow technique that creates a shaded pencil-like, gradient effect from the front of the brow to the tail. The technique consists of depositing dots of pigment into the skin, resulting in a softer, more natural-looking brow. Unlike other eyebrow techniques, Ombré Brows are less harsh and blend more seamlessly with your natural brow hairs.
Why Choose Ombré Brows?
Natural Look
Ombré Brows create a more natural-looking brow and can be similar to other techniques, such as microblading – there is also a procedure called microblading + ombré brows that combines both of these techniques. 
Low Maintenance
Ombré Brows are relatively low maintenance compared to other eyebrow techniques. They require minimal touch-ups and can last up to 2 years with proper care. This makes them a great option for anyone who wants to enhance their brows without committing to frequent touch-ups.
Suitable for All Skin Types
Ombré Brows are suitable for all skin types, including oily and sensitive skin. The technique uses a gentle microneedling tool that deposits pigment into the skin without causing damage or irritation.
Customizable
Ombré Brows are customizable to suit your individual needs and preferences. Whether you want a subtle enhancement or a dramatic change, the technician can work with you to achieve your desired look. They can also take into account your face shape, skin tone, and natural brow shape to ensure that your new brows compliment your features.