At Brow Boutique Cape Cod, we understand the importance of having well-groomed eyebrows. They are one of the most prominent features on our face and can make a big difference in our overall appearance. That's why we offer microblading services to our clients. In this article, we will answer one of the most commonly asked questions about microblading – how long does it last?
What is Microblading?
Microblading is a semi-permanent cosmetic tattooing technique used to enhance and shape eyebrows. It involves using a hand-held tool with tiny needles to create small hair-like strokes in the skin. The pigment is deposited into the epidermis, creating a natural-looking, fuller eyebrow.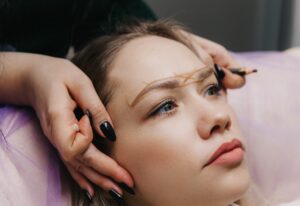 How Long Does Microblading Last?
The longevity of microblading depends on several factors, including the individual's skin type, lifestyle, and aftercare. Generally, microblading can last anywhere from 12 to 18 months before a touch-up is needed. However, some people may require touch-ups sooner, while others can go longer before needing a touch-up.
Skin Type
People with oily skin tend to break down the pigment faster than those with dry skin. The natural oils in the skin can cause the pigment to fade more quickly, which means touch-ups may be needed sooner.
Lifestyle
Lifestyle factors such as exposure to the sun, swimming, and sweating can also affect how long microblading lasts. People who spend a lot of time in the sun or participate in activities that cause them to sweat may need touch-ups sooner.
Aftercare
Proper aftercare is crucial to the longevity of microblading. After the procedure, clients are advised to avoid getting their eyebrows wet for at least seven days. They should also avoid touching or scratching the area, as this can cause the pigment to fade more quickly.
How to Make Microblading Last Longer
To make microblading last longer, clients should follow the aftercare instructions provided by their technician. Additionally, they should avoid using products that contain exfoliants, such as retinol or glycolic acid, on or around the eyebrow area. These products can cause the pigment to fade more quickly.
Get the best brow treatment at Brow Boutique Cape Cod
If you live in the Boston, Plymouth, Hyannis, or Cape Cod areas and are on the hunt for the best brow treatment, look no further than Brow Boutique Cape Cod. We offer a range of techniques to help you achieve the perfect look for your eyebrows, including the popular microblading. Don't hesitate to contact us now to book your appointment and get the brows you've always wanted!
Microblading is a popular and effective way to achieve fuller, natural-looking eyebrows. If you have any further questions or would like to schedule a microblading appointment, please contact us at Brow Boutique Cape Cod!